Read me if you plan on downloading anything!
~ I do not care what you use these scans for. But you
MUST
give credit to me for the scans with a link. How else are others to find them? :)
~ Absolutely
DO NOT REDISTRIBUTE
. Aka, do not reupload these scans anywhere. Just link to here. Is that really so hard? I don't like watermarks since they mess up the image, but if I have to I will add watermarks to each and every page in such a way that they cannot be removed without the page looking stupid. It can only be your loss. The password to get the file is, 'my_thanks'. If you ask what the password is in the comments, I will flip a table (because you obviously didn't read like you were supposed to). That being said, the password changes from time to time. Although I love that people share the link, I don't like people posting the password around so others don't have to read my terms. So I change it.
~ If anyone would like to translate/scanslate this, just ask me. I can provide larger scans.
Enjoy! c:
Saint Seiya Doujinshi 1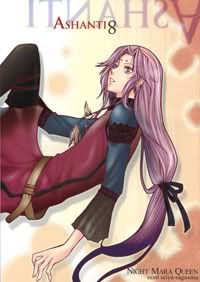 Series:
Saint Seiya.
Title:
Ashanti 8
Artist:
Night Mara Queen.
Type:
Yaoi.
Pairing:
Saga & Mu.
Rating:
Idk. It's soft yaoi i guess, nothing graphic.
Download
Download at Mediafire
Saint Seiya Doujinshi 2
Series:
Saint Seiya.
Title:
Unknown (can't read Japanese).
Artist:
Side-s
Type:
Yaoi, random comedy.
Pairings:
A lot.
Rating:
PG 13++. Naked scenes, but nothing shown below the waist. Last 2 pages are a little more hardcore with Camus and Milo.
Download
Download at Mediafire
Anniversary no Kuni no Alice - Tokeiya
Artist:
Quinrose.
Pairing:
Alice & Julius
Rating:
PG 13.
Download
Download at Mediafire